AMID ELECTROMAGNETIC FIELDS BY ART-FI

| | |
| --- | --- |
| ART-FI 5G Smartphones logo | Source: ART-FI |
EASILY AND SEAMLESSLY
Responsible Author: Ruby BIRD & Yasmina BEDDOU (Journalists/Directors) | PARIS - ARLINGTON, 12/31/2020, 17:05 Time
USPA NEWS -
As winter weather, local restrictions and shutdowns start challenging hospitality operations across the country, restaurant commerce platform GoTab is helping operators pivot and seamlessly transform their business operations, from adding catering services for the holiday season to transforming restaurants into retail markets and grocery stores. GoTab's unique features and key integrations also allow operators to run profitable operations and easily pivot between dine-in service, takeout, curbside pickup and delivery, catering and retail market services.
FOCUSES ON THE HUMAN EXPERIENCE
Responsible Author: Ruby BIRD & Yasmina BEDDOU (Journalists/Directors) | PARIS - DOHA, 12/31/2020, 17:02 Time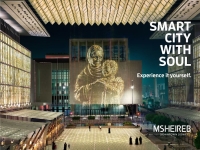 USPA NEWS -
At a time when people are increasingly disconnected in modern urban spaces, Qatar's award-winning smart and sustainable city district, Msheireb (pronounced muh-shey-reb) Downtown Doha, sets people at the heart of new urban living with its brand identity campaign, "Smart City With Soul."
| | |
| --- | --- |
| | Daren Frankish |
| | RAHMA-SOPHIA RACHDI |
| | Ruby BIRD |
| | Yasmina BEDDOU |
| | Aurangzeb Akbar |